Do you feel confident in your taste and sense of good design? Do you marvel at the creative genius in some designs and wonder how you can possibly bring all of your ideas to life? 
Whether you're just starting the process of planning or have been day-dreaming about perfectly placed centerpieces and ambient tablescapes, you'll want to take note of these 8 tips as a guide (or a refresher) to good design.
Design Tip #1: Go Natural over Literal
Have you ever been to an Americana bathroom full of American flags, stars and stripes, and it feels a little too … much? Or a beach home that is full of shells, coral, and "Beach this way" signs?
Good design isn't always direct. Letting your design occur naturally is sometimes better than packing in every related piece that fits in with your wedding palette or event theme. Don't be afraid to scale back and let a few subtle hints do the heavy lifting. 
Design Tip #2: Simplify: Embrace the White Space
Feel free to group this in with the first tip because it never hurts to simplify! Take some advice from Coco Chanel: "Before you leave the house, look in the mirror and take at least one thing off." 
While you do want to immerse your guests, you don't want to overwhelm them. Think back to the beach bathroom… grab a can of sea-green paint and a sea-shell patterned decorative towel (just a splash!) and nix the "beach this way sign" and you have the same aesthetic. Or, even better: an accent using driftwood or teakwood, crisp white crepe fabric on chaise chairs and a teal pop in the accent pillows and it gives "coastal" without the tchotchkes. 
Design Tip #3: Opposites attract
Find a mix of masculine and feminine elements that complement and contrast in the best way. Pair different textures, materials, and patterns to create balance and interest. Think soft-toned florals that accent the dark wooden pillars of your wedding venue. Or, deep navy blue envelopes paired with ribbon accents in your invitation suite. 
Design Tip #4: Tie back into your tone words 
What do your design elements say? A farm table (even the most elegant one) is going to bring organic, natural vibes to your aesthetic. If you are going for a contemporary chic tone, consider a luxe linen instead. The easiest path to cohesive design is always tying back in – so easy, it feels like cheating. Stealing your envelope liner for the backdrop of the seating display, or the floral motif from your save the date into the table numbers and the programs. Your guests will love finding the breadcrumbs! 
A wedding planner or designer will love to know the items you naturally gravitate towards, and sometimes our (the client or recipient's) gut reaction can be fairly inconsistent or eclectic. 
Going for an eclectic vibe? Then that in itself is your tone word! We recommend that even an eclectic and multi-textural design have cohesive elements that tie it all together: a slate blue that is in the table runner, and the menu cards, or 3 metal finishes rather than mixing 6.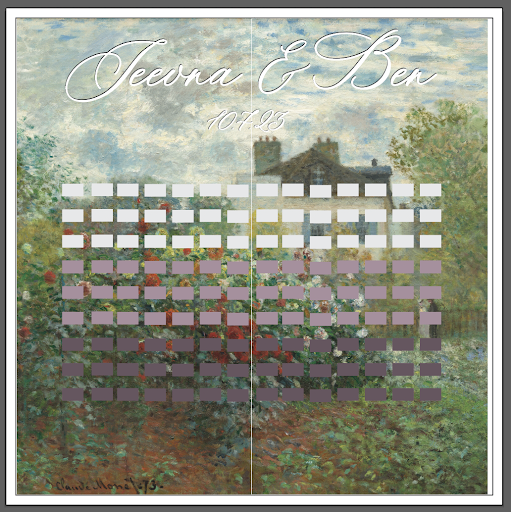 Design Tip #5: Marry form with function 
Where aesthetics and logistics align. What does this mean? We love placing a sign to direct and guide guests right around the curve of the path, or at the spot where the bus will drop them off so they think: "Oh, good! I am in the right place for Joe + Nisha's wedding."
However, we find that couples often consider signage purely for the design element, when in fact a welcome sign's primary function is to direct guests. The calligraphy is a bonus! 
Make sure there's a purpose to your design elements like these. Otherwise, you may want to refer back to design tip #2 and simplify by dropping the unnecessary signage, no matter how pretty it may be!
Design Tip #6: Fashion forward but make it timeless 
It is such a delicate balance to select modern elements that feel current and interesting, and to select trends that feel fun and fresh. We always come back to – how is this photo going to look generations from now .. as a legacy item?   Mixing timeless elements with contemporary taste helps create a design that will still delight in 40 years.
Design Tip #7: Sprinkle in elements that surprise and delight 
Events and weddings aren't just celebrations; they're experiences. You want your guests to be in it with you, experiencing your joy, your love, your excitement. Adding an element that engages your guests provides that experience – think photo booths, live portrait painting, celebration boxes, curated food and beverage that represents something special like your  first date, cherished pet, wedding location. These are all experiences that invite your guests to enjoy with you.
Design Tip #8: Find your edge and find the ease 
The purpose of event design is to tell a story and for every guest in attendance to feel a true expression of the person(s) being celebrated. For weddings, you want your guests to feel as though they are experiencing your love story. Finding your "edge" early on in the planning process will help you ease into your comfort zone and let all of these elements of good design fall into place… and of course, don't be afraid to call in a designer or planning professional to help – that's what we're here for!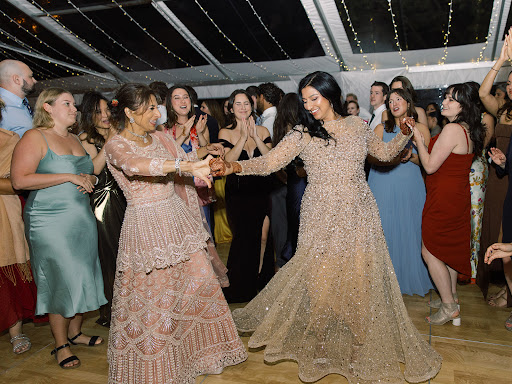 We hope these tips help you design your perfect wedding or event. If you'd like a little extra guidance, send us a message so we can learn more about you and take on your design adventures together!