It's a challenge to achieve perfect host status and still leave yourself the time and energy to celebrate with your guests. This comes to the forefront over the holiday season when being together is the entire reason for our celebration. How can you do it when you're stuck in the kitchen, finalizing little details, stowing away coats and purses, etc.?
The key is to free yourself up from being or doing a few simple things:
Stirring or cooking at the stove
Last minute prep
Pouring drinks (a few is fine)
Too much directing traffic
A little background: I am Austrian / German – American and my husband is Italian – American so let's just say our families entertain pretty differently. I've learned a lot from him, and also have had quite a bit more fun when I have people over now that we entertain together.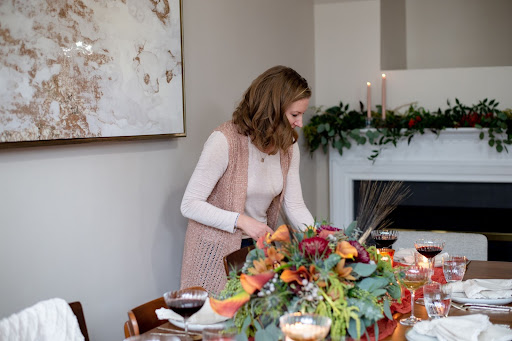 Between personal celebrations and the wedding and events I've planned professionally, I've come up with a few tips on how you can host AND enjoy the party, whatever the holiday or celebration may be…
Plan to do most of the cooking and preparation before-hand
Yes, this is possible to create a menu with items that can be done ahead! Working backwards: Begin prep work 2-3 days ahead.  There are many items that can be done ahead (even, and especially) for Thanksgiving.
Items that are great do-ahead dishes for a party:
room temperature or cold foods (charcuterie or bruschetta)
soups or dips that can be in a crockpot or super low simmer
Salad (keep dressing to the side)
baked pasta like lasagna that can finish cooking as guests arrive, no supervision needed
Dishes that (generally) don't play well with parties:
stove top pasta (needs to be done at the last minute)
dishes that need to be served HOT, right when they're done cooking
Set up an interactive nibble board for guests to enjoy right away
Over the last few years, there has been a wave of next-level nibble boards for holiday gatherings and every day celebrations. Charcuterie boards, butter boards, pretzel boards, fondue boards… almost every element of these can be prepped and curated ahead of time.
For not too hard but next level status, have you seen the charcuterie board in which you turn your island into the board?! Lay down butcher paper and begin designing your crackers, cheese, grapes. It's a conversation starter!
Make guest arrival easy
Yes, it is being a hostess with the mostest by taking everyone's coats. BUT, it does tend to tie a host up. The alternate idea – guests can place their own coats! Just direct them to the bed / space you have created for coats or personal items. Remember, your friends and loved ones are there to see you, to spend the holiday with you or celebrate the occasion with you. Your guests will gladly participate in the party, and will notice how at ease you are. The "make yourself at home" motto goes both ways. And with our next idea, it makes that guest flow seamless.
Plan a self-service bar
Set up an interactive and inviting bar where guests can self-serve.  Make it engaging and celebratory to encourage your guests to begin mingling.
Prep some pre-mixed cocktails or single servings of bubbles, wine and beer. Even better; make it interactive by having pre-mixed cocktails available for guests to just "add ice, shake or stir!"
If you think your guests will be into it, you can even present a build-your-own "perfect French pear martini" or other cocktail by displaying the recipe in a cute frame on a table with all of the ingredients for guests to use… hello, mixology bar! Truthfully, guests will love making their own drink and getting to see more of their friend, the host, so it's a win-win.
Design the flow of your space
Where do you want your guests to enjoy the party? I love establishing a few food zones and gathering spaces for guests to allow for a good flow and to encourage guests out of the kitchen and prep spaces. By strategic placement of a nibble board, your bar cart, and any other engaging aspects of the party, that will immediately put your guests at ease.
Pre-plan your buffet or serving area
PRO TIP: For dinner parties and holidays, if some reheating does need to be done at the last minute, plan out ahead of time the use of your buffet or sideboard. Pre-place post-its, serving spoons, and hot pads at the individual spots.
For example, guests helping set out the turkey and mashed potatoes can easily bring those dishes right to their post-it note. This saves you, the host from extra directions or just doing it yourself.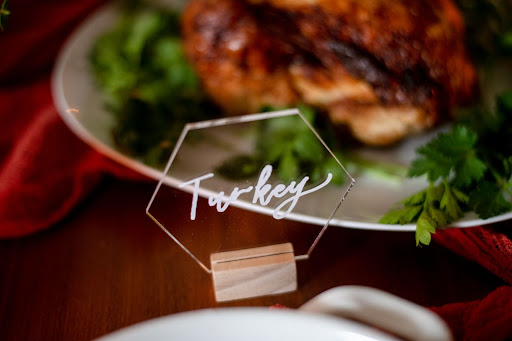 A relaxed host at the party starts with a relaxed host before the party
Holidays are stressful, I know. This is a tough one but it can be done!
For me, when I'm stressed heading into a party, it's when I'm doing things right at the last minute or I'm being overly ambitious with what I want to prepare and serve. Usually, because it's been a busy week and I'm trying to clean the house, and cook, and shop, and decorate…. All the morning of.  Sound familiar?
Let me paint a picture. What if: 
Monday: Shop for the party & plan the design
Tuesday: Clean the house (round 01)
Wednesday: Begin the baking and dust off the bar cart
Thursday: Set out your decor, send your partner to the store, clean the bathrooms (round 02)
Friday: Cook or mise en place (food prep)
Morning of: Final cooking, Set the table
One hour before the party: Soup is simmering, lasagna is ready to go in, and you've just poured yourself a drink 🥂
Bonus tip: consider hiring a planner or day of coordinator if and when your budget allows; it's what we're here for! Hop over to our contact page so we can chat more about your holiday party planning needs!