special events + milestones
We often are asked, "Do you do bat mitzvahs?"  or "We're planning an anniversary party and not really sure where to start. Can you help?"  It's a resounding yes.  We are honored to facilitate with your family's treasured moments. Each celebration has it's own flavor so we can help with any of the following: 
Access to Alyssa via email upon booking 
Access to our suite of powerful planning tools 
Venue scouting, contract negotiation, and selection 
Vendor recommendations, communication, and selection
Custom, comprehensive timeline & floor plan creation 
Communication & management of your vendor team 
Detailed ceremony planning (if applicable) 
Catering selection & menu planning 
Creation of design (look and feel of your event) 
Guest management: assistance with seating, meals and more
Full event inventory
Supervision of wedding day set-up and strike 
Event management & planning is a customized experience.  The investment depends on the complexity of your event and the level of planning assistance you need..  
For event management, we will begin working together 6-8 weeks out from your event day.  Interested in start to finish help?  We are here for it.  
"Alyssa is incredibly organized, which is the best quality a planner can have! She communicates efficiently, providing detailed timelines with the structure of the day, and takes care of the small details. We were able to collaborate on one-of-a-kind designs."
PATRICIA HEFFNER, stationer
01. Getting To Know You — Through phone calls, coffee dates, vendor meetings and with lots and lots of questions, we'll quickly get to know each other. We can't tell your story through your special event without this step in the process, and it's my favorite part!
02. Planning & Tools — I'll introduce you to your easy-to-use, digital wedding planning suite.  There you'll find all the checklists, templates, timelines and other resources you'll ever need to plan a killer party. I'll walk you through what to do, when, using this planning tool.
03. Event Design — I'll use pointed questions and mood boards to design an aesthetic for your event. From there we can hire a florist, decide on invitations, rent decor, buy a dress — and be as elaborate or simple as you like.  On the event day, it'll be my job to bring your design aesthetic to life fused with my own nature-loving, minimalistic twist.
04. Event Day — It's show time! Don't worry about a thing on wedding day — I'll have Plans A, B and C in my back pocket and will have gotten to know you so well, I won't have to bother you with questions. My team and I will make sure your glass is never empty, your parents are treated like the VIPs that they are, and your DJ doesn't sneak on that song from the no-play list.
05. Post-Event Recap — A few days after the wedding, I'll pop into your inbox with an email roundup. I'll remind you of what took place, and even provide an itemized list of who took your personal items home from the reception. Every last thing, down to the numbers of cards you received, will be in that email so you can have peace of mind knowing that the little details were attended to while you're off honeymooning (or back at the office).
Are We Doing This or What?!
Let's start getting to know each other. You bring the engagement stories and questions, I'll bring the bubbly
and some insider wedding planning tips!
I'm Alyssa Glorioso, but I wouldn't be surprised if you started calling me Coach Glo. I firmly believe that wedding planning is a team sport. As we work together for a year (or longer!) you'll find I'm: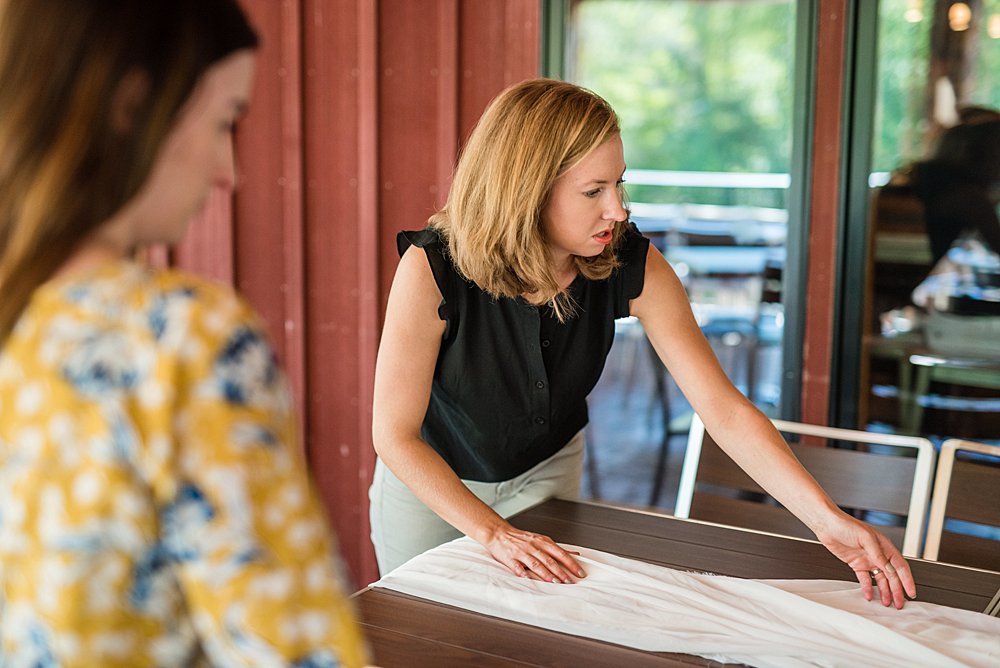 Laid back, yet oh so on top of things. It's one of the things my couples say they love most about me.
Your advocate. I want what you want for your wedding day, no matter what your parents expect or tradition dictates. 
A creative problem solver. No wedding day issue is too big or too weird for me to handle. 
Captain of your dream team of wedding professionals, come wedding day.
All about making things perfect, but I'm also super practical. I'll be real with you when you pick out a venue that doesn't match your design style, and I'll remind you not to sweat the small stuff when you've spent four hours worrying about napkin folds.
Your coach when it comes to getting married in a way that feels authentic and stress-free for you and your partner.
Get Your Questions Answered
Are We Doing This or What?!
Let's start getting to know each other. You bring the engagement stories and questions, I'll bring the bubbly
and some insider wedding planning tips!