---
Imagine this. It's almost time for your reception celebration to begin.  Guests are filtering in from your cocktail hour, drinks in hand and ready to relax with their friends and significant others at their seats.   As they locate their table, one of the first things that will catch their eyes is your carefully planned place setting.  Throughout the evening one item that will get a sneaky amount of attention?
T h e   n a p k i n .
 Brides and grooms (rightly) contemplate the color palette and the florals. The china and the glassware. But one item that is probably touched and felt the most? You guessed it!  T h e   n a p k i n.  Why not make this a pleasurable tactile and visual experience from the beginning of the evening?
Let's elevate your table just a little bit more with this dainty square of fabric.  You can choose premium weaves and colors …. But this post I want to focus on a few ways to fold or tie your napkin to grace your table…  with just a little bit of forethought, effort, and whimsicality.
I'd like to share a few napkin folds that have become recent favorites of mine, and though they might look complicated are actually fairly simple and straightforward. (I promise! I usually fail at YouTube tutorials so if I can do it, so can you).
                                                                   The Diagonal Pocket Fold 
This one can be used for a menu, utensils, or perhaps a favor.  I definitely have found this one to be a crowd favorite.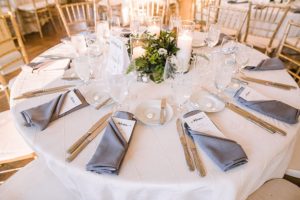 Bakerture Photo
The Top Knot
My current favorite.  Slightly sassy and still classy.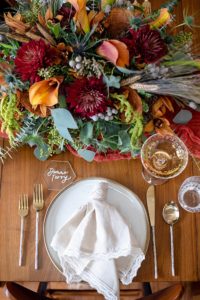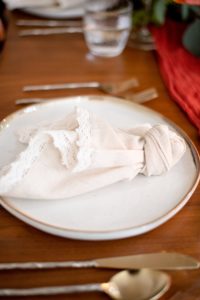 Leandra Brown Photography
Elegant Knot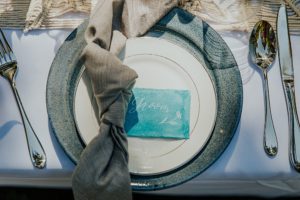 Darcy Troutman Photography
The Garnished Napkin
I love this one because the citrus accent adds such a pop and sophistication. Whether it's a greenery sprig or a ribbon ~ it's a small detail that is really noticed.  I see too many boring napkin folds and to me, the attention to detail shows guests that you care about them.  Nothing is too small for your gracious attention!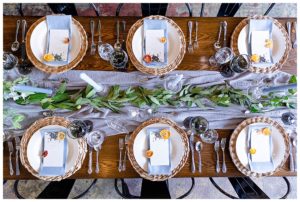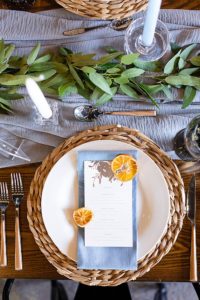 Amy & Kyle Photography
So there you have it! I'd love to hear a napkin fold you're crushing on, or which one you selected for your next celebration!