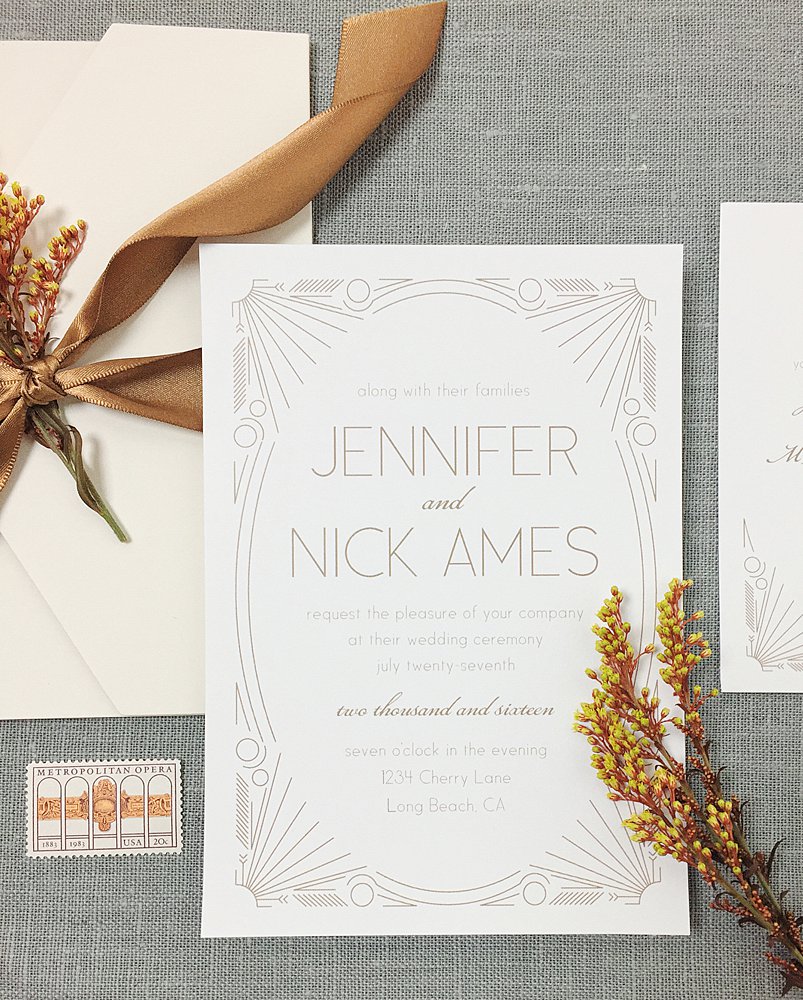 This post is sponsored by Basic Invite, all opinions are my own. 
I've noticed in recent weeks that many of my couples have wedding day paper on the mind. I'm talking save the dates, invitations, and G U E ST B O O K S.  Curious to hear my thoughts? Keep reading for our guide to our favorite online retailer, basic invite. 
Wedding Guestbooks 
Are you considering inviting your guests to sign a guestbook but haven't really loved any of the options?  Wedding guestbooks are an important wedding day detail, one that most of my couples include in their wedding and invite their guests to sign.  What I love about the wedding guest books from Basic Invite is that they are customizable and personal to you — one that you won't find in most shops.
Why does that matter? You want a cohesive wedding design — especially since your wedding guest book is prominently displayed in your reception space.  After the wedding it becomes a keepsake for you two to relive your wedding day.  Finally, you can select designs that pair perfectly with your invitations, save the date, and day-of signage (such as your menus or programs).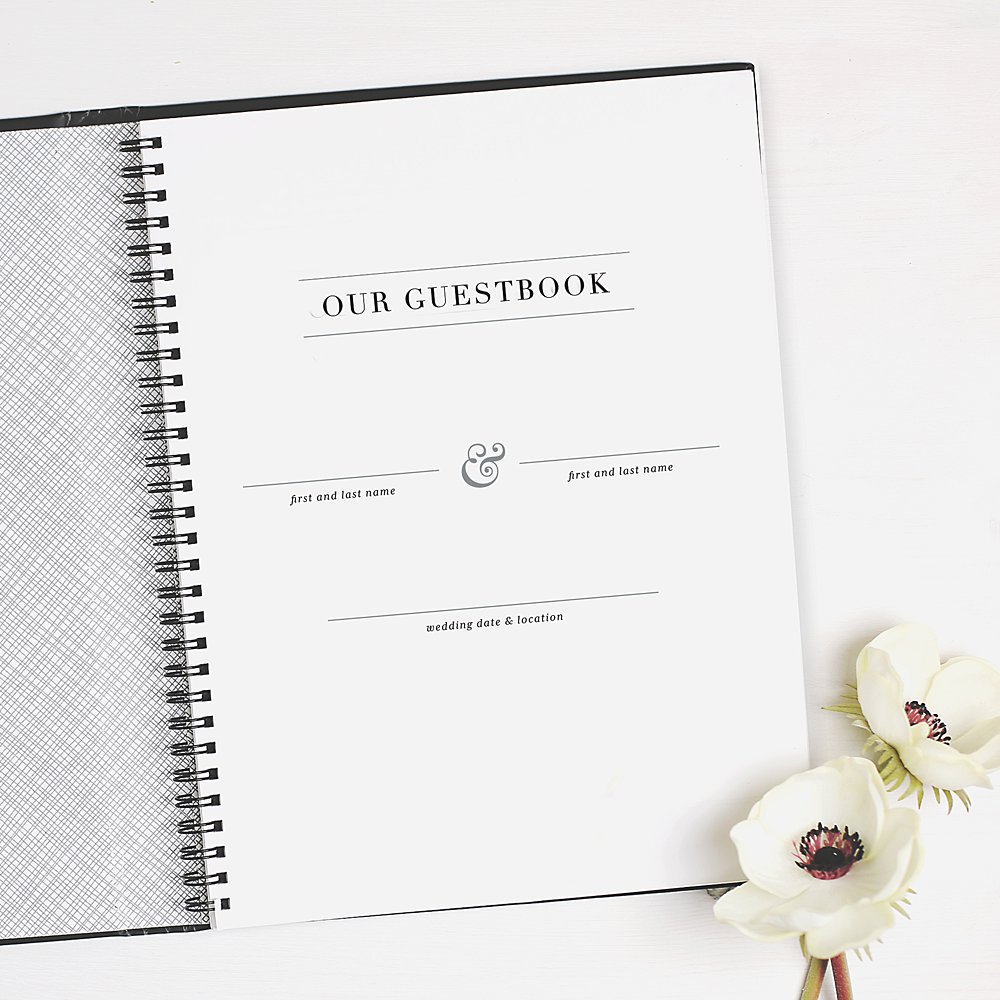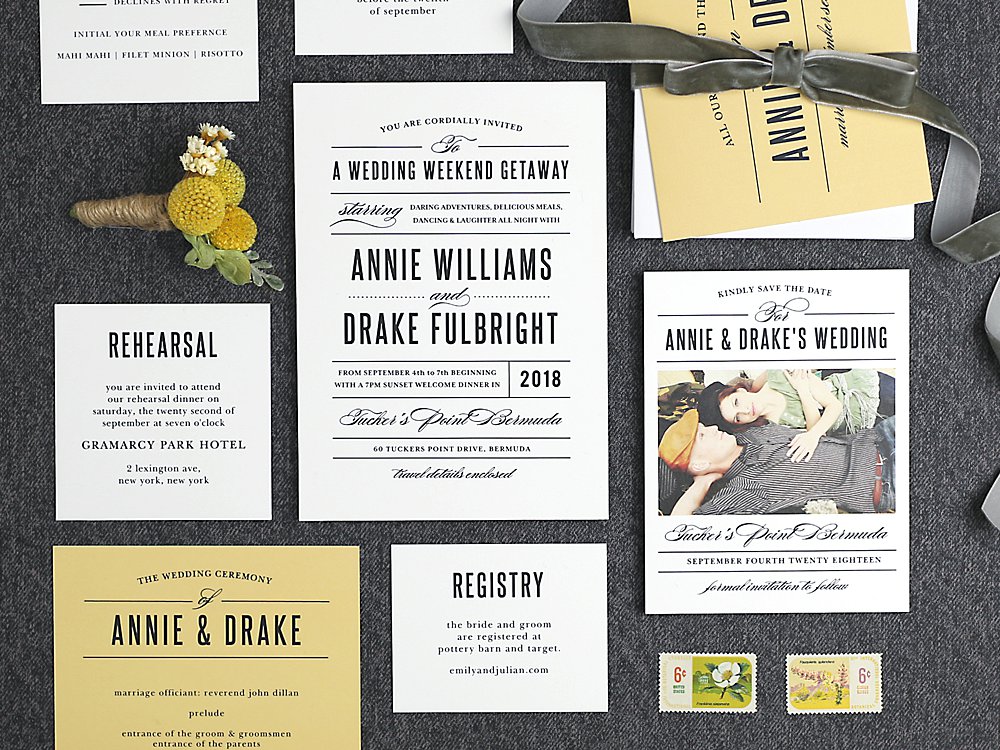 Invitations
Speaking of invitations …  In the last year, Basic Invite has become one of the retailers I highly recommend to my couples.  Couples have no shortage of options, to be sure, but let's face it, you have a lot on your plate. A few of Basic Invite's features and amenities have made it a favorite for those who've used them.  Most importantly, your save the date and invitation will be your guests' first clue to your wedding day experience and what it will be like to celebrate together.  Creating a cohesive, beautiful design is super important.   Thinking about a modern acrylic design like below or an elegant script font with watercolor detailing? Basic Invite can complement your style and desired aesthetic.  
As a bride I remember just how many decisions and selections we had to make.  Being able to go to one spot would have eased so much stress and decision fatigue.  Especially since I ordered these design elements from different shops and then tried to create a cohesive look.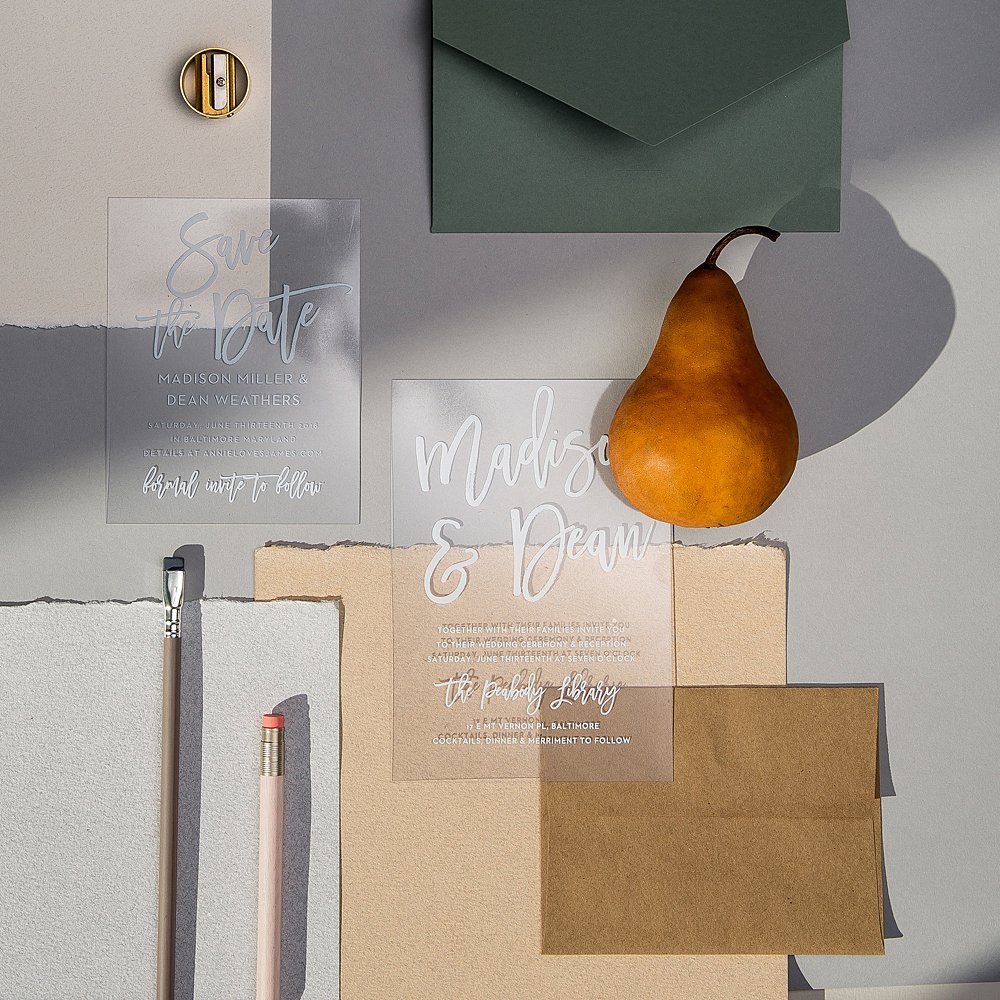 Customization
One of the fun parts is the amount of colors and customizing you have to choose from in their designs.  With 40 (!) different envelope colors to choose from, you can really make the invitation suite your own (and have some fun).  Don't love the script font? Can be easily changed right on their website.   Now that you're pretty sure you have a design selected, the best way to finalize is through ordering a sample.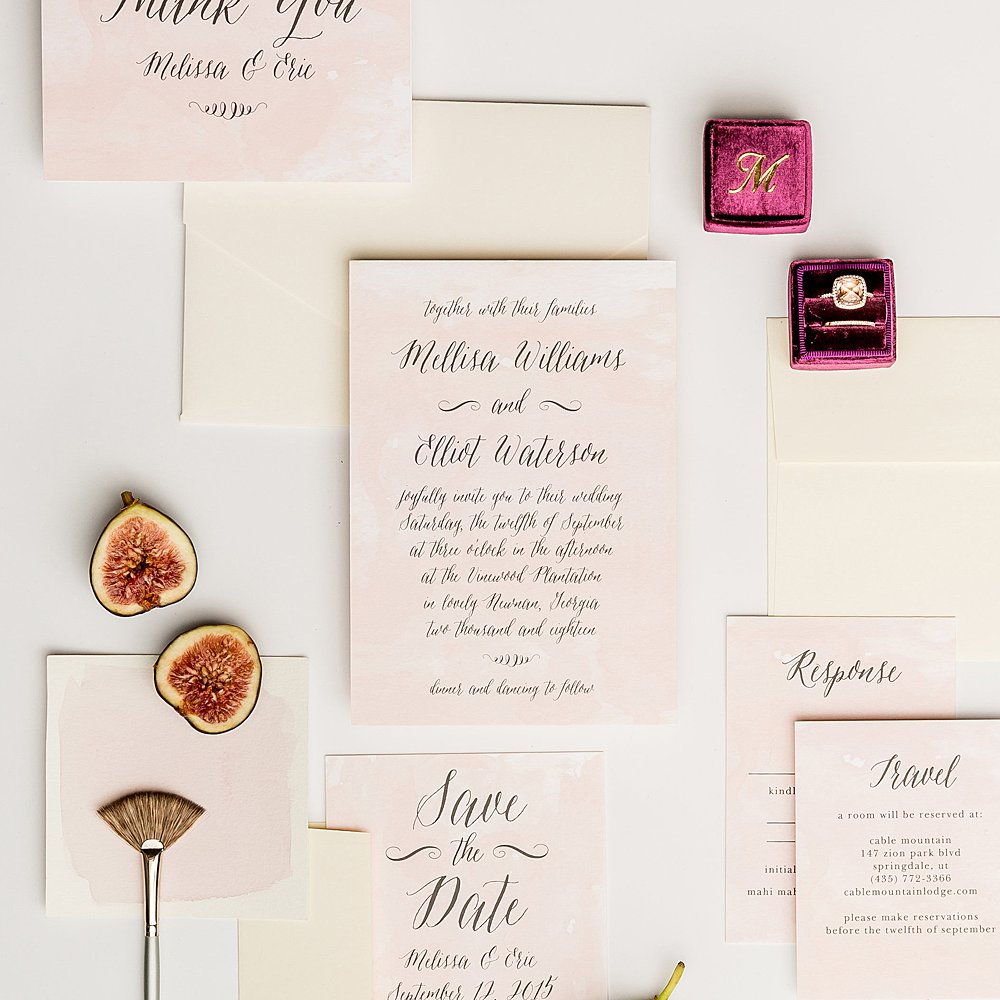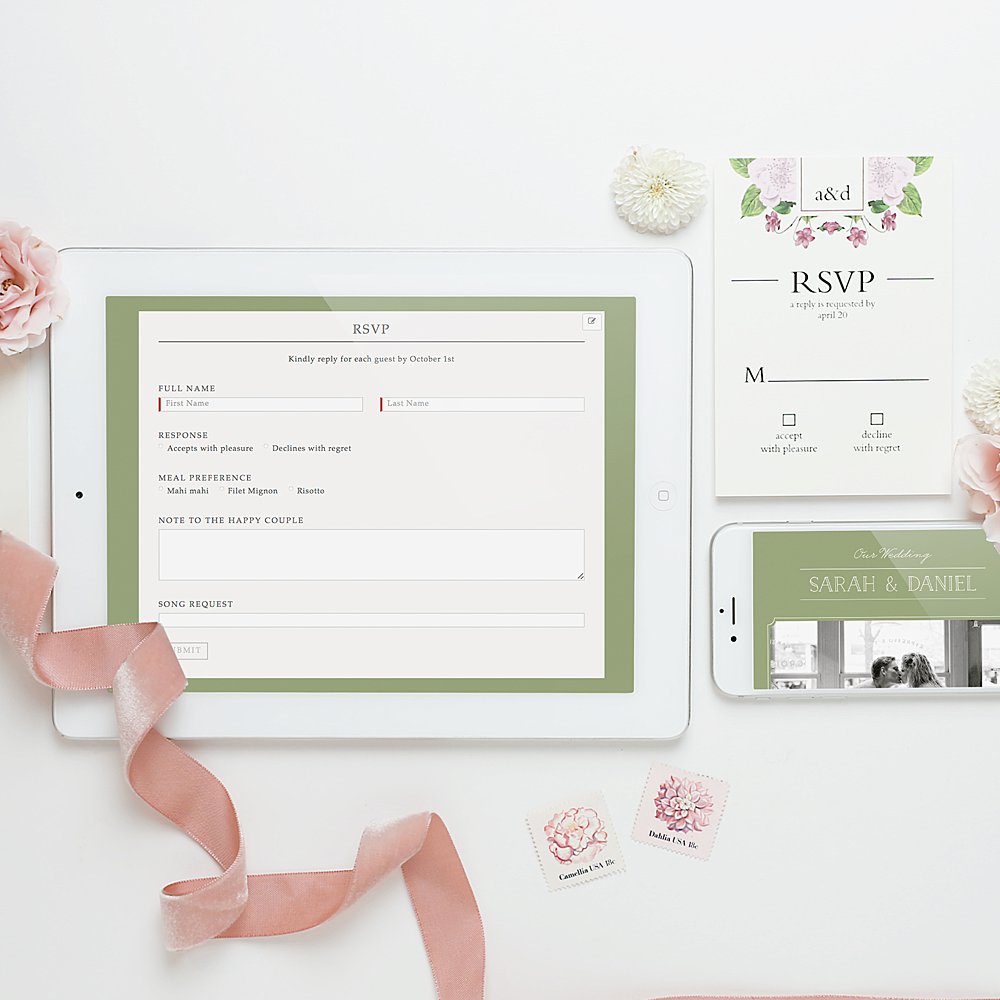 Wait, that's complementary? 
Let's chat a little bit about how Basic Invite wants to make it easy for you.  Do you remember the major task of collecting addresses?  Basic Invite includes this as a complementary service – both the gathering and the addressing.  
And finally, the last piece of the puzzle. Wedding websites.  Did you catch my conversation with my copywriter, Taylor Griffith? We chatted all about writing your wedding website.  If you did, you know how important but hopefully easy this step can be.  Basic Invite's wedding websites are free and complement your entire suite of wedding invitations, save the dates, and guestbook.  
So, what are you thinking for your wedding invitation suite and guestbook? Do you like the idea of a modern acrylic? Or perhaps soft and romantic script?  Or maybe a custom design? Let us know in the comments.  
photos are courtesy of basic invite.