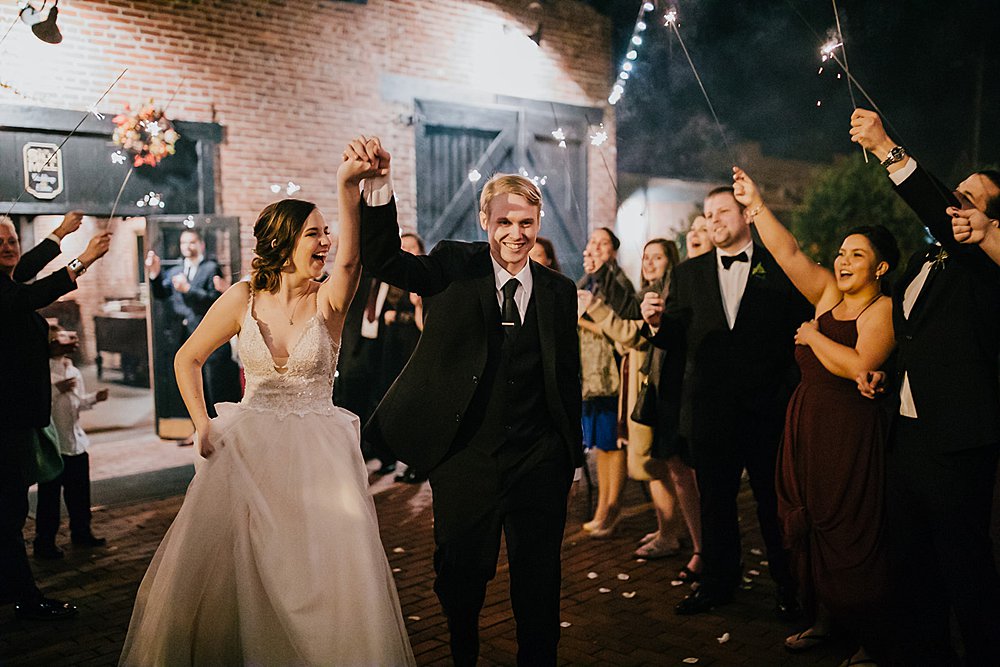 Edgy meets Romantic Fall Wedding | Inn at the Old Silk Mill | Fredericksburg, Virginia.  This industrial Central Virginia venue set the stage perfectly for this early November celebration.  Planning by Alyssa Glorioso of Glorious Weddings & Events.  Alyssa specializes in Virginia weddings and is available for planning services throughout the DC area.  If you're interested in modern industrial venues, you might enjoy reading this blog post.  Keep reading for the whole vendor team and more about Taylor and Alex's story.
Many thanks to the fabulous vendor team: 
What a wedding!  Taylor and Alex's wedding day could not have been more perfect.  It was an absolutely gorgeous day at the peak of fall colors.  If you were to select a snapshot of fall in Virginia, this would be it.
The Details 
It was a pleasure working with a bride who loves the details as much as I do!  I knew throughout our communication that the wedding day Taylor dreamed of would be absolutely beautiful.  Taylor's dad specially created an arbor for the ceremony and a photo booth for reception — talk about personal touches!  Those details and others (like a unique photo display) reminded me what weddings are about: bringing family together and letting the special day tell the couple's unique story.  Taylor has a great eye for design and the groom, Alex, only had eyes for her.
Their Story
Throughout the wedding day, it was clear what one of the day's priorities were, and that was plenty of time for capturing photos. The Inn at the Old Silk Mill provides so, so many opportunities for striking, dramatic photos!!  For those who haven't been before, the Silk Mill is a unique venue full of eclectic details.  With a rich historic vibe, it tells the story of another industrial time (it was built in 1899!) through its brick interiors, old-fashioned black rimmed windows, and plenty of character in the furniture and courtyard area.  An amazing feature of The Inn at the Old Silk Mill is that all of the wedding day spaces are within steps of each other.  Guests remarked how amazing it was that they only had to walk a few steps to the chapel for the ceremony, and around the corner to the cocktail hour.
The Celebration 
Though I love wedding day details, it really is about the moments: the celebration spanning generations and the adoration and love spilling out from the new, happy couple.  One such moment during the toasts, I looked out to see two of the flower girls sweetly listening, captivated, on the dance floor.  It was a pleasure to assist in the special day and best wishes to the happy couple!