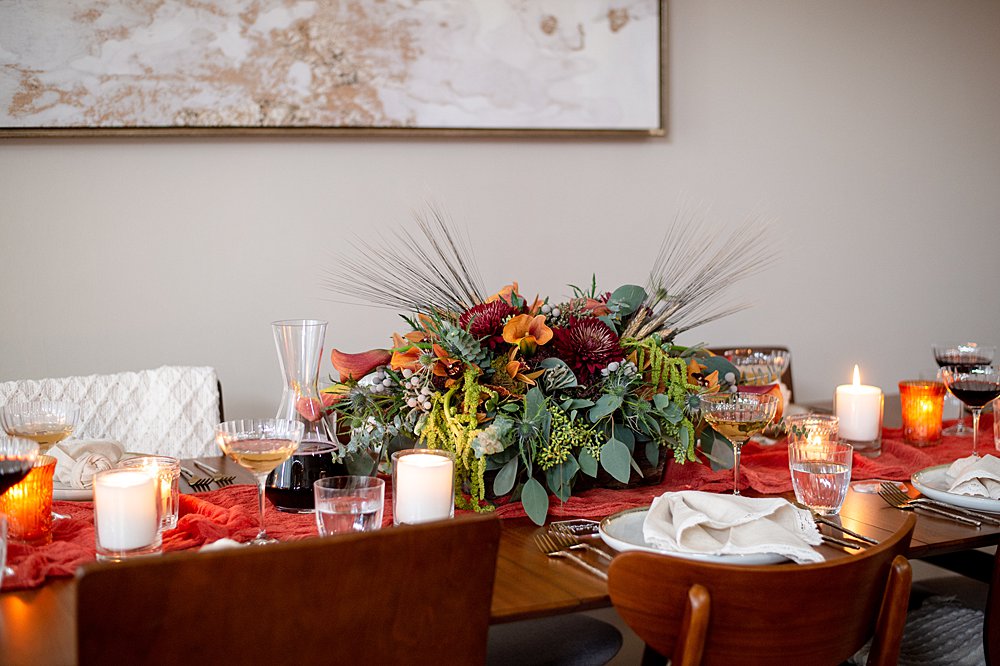 Early November ushers in true fall temperatures, shorter days, and seems to cue a transition into a whole new phase of the year.  But before winter is upon us, we first celebrate what is in my opinion the best holiday of the year: Thanksgiving.  Thanksgiving to me, centers around gathering loved ones around the table, in which the specific feature is eating together.  
Perhaps you're like my family and gathered around the table it's typically my immediate family, and maybe a family friend or two.  It's less about "hosting" and more about the hours in the kitchen, merrily cooking, and then eating. (We enjoy food as if we were Italian — we're not).  But in many families, the celebration focuses on bringing together extended family into a large feast.  
So what does it mean to host and entertain on Thanksgiving?  If you are the cook and the host, how do you balance that?  If you've never prepared a Thanksgiving dinner, whether alone or with help, it can be daunting!  Or perhaps inviting twenty people over to your house is the more daunting part…
My Italian husband has taught me, that entertaining is about P R E S E N C E.  It's about creating a space where guests can enjoy themselves and the company of each other.  I've found what most helps the guests feel relaxed and welcomed is the host enjoying themselves and settling into a conversation.  It's a balance of being the Biblical Mary and Martha.  
01. Creating a welcoming space:  A few ideas for designing your table 
 For this particular scheme, I wanted to take a page from nature and incorporate some of the fall color and texture into the design.  I even foraged for the greenery to get that raw feel from the berries and branches (yes, that really happened). 
Please note,  these candle jars are actually technically drinkware!  However, with the candles lit, they simply become a candleholder.  
One trend that I'm loving is the raw wood table accented by a runner.  If you have a gorgeous table, the no-linen look is a great idea.  While home stores have quite an inventory of runners,  they tend to be a little stiffer and lay flat.   I prefer the soft, gauzy look with material like chiffon or cheesecloth.  With the floral arrangement and the candles lit,  everything seems to come together. 
One idea is to set the table earlier in the day for that wow factor when they arrive.  Plus, what makes guests feel more cared for than a thoughtfully arranged table waiting for them to enjoy? 
Setting the Table 
Who else is drawn to dinnerware that is elevated ceramic but not necessarily fine china?  Joanna Gaines' line is gorgeous and has that artisan, "each plate is slightly different" feel.  Add in a water and wine goblet for the full look.   These goblets have that elevated, whimsical look perfect for the holidays.  
I might be developing a serious crush on cloth napkins.  My opinion is that you can't go wrong with a neutral color napkin, grey or beige being my personal favorites. This "top knot" napkin fold showcases the elegant hemstitching.  
S E C O N D   D E S I G N 
This design featuring these gorgeous dessert plates offers a stunning contrast, and the black plates represent the "autumn fading into winter" feel.  
If you want to do placecards: 
For a refined, modern look, create acrylic placecards like these hexagonal ones.   
Or, for the more fun & down to earth feel, ask the kids to write and draw the placecards.  My siblings and I had so much fun doing them when we were growing up (and my parents got a good laugh). 
And, nothing replaces flowers for the perfect accent to the table.  
02. On being present: 
I think a question many people have (and I myself struggle with), is how to be a gracious host, be present with your guests, when you are also the cook.  It's a real challenge!  I've found the answer is preparing and cooking items ahead of time, and selecting a few items that are best done right before.  (Keep reading for more ideas on that!)  
When we're thinking about being present with our guests, what does that really mean or look like?  In my experience, it means engaging and welcoming your guests right away, in a thoughtful, relaxed way. (Nobody enjoys being smothered or pounced on!)   What it might look like is settling into a conversation and taking a few minutes to show your guest how happy you are that they've arrived.  What I've found allows me to do this as a host is to have everything in the kitchen in order and not needing stirring or attention.  I can step away from the preparations and give my full attention to my guest.  If I'm still in the middle of cooking, I would otherwise greet them and then have to excuse myself — which doesn't allow me to be present with my guests.  
Now, I firmly believe in letting your guests "settle in": by tending to their immediate needs and making them feel comfortable.  That might be that's taking their coat or pouring them a drink.  But, when you're a guest, how much do you love being able to select your own drink?  I certainly do!  
 To take some of the drink preparation off of you, and to create a fun holiday buzz (pun intended),  have a drink sideboard set up, with a few drink options and barware for guests to self-serve.   Plus, it adds to the festive, welcoming design that you are going for!  Finally, the other benefit of this idea is that often times guests arrive all at once.  Preparing drinks can preoccupy a host for sure, and prevent you from greeting other guests.  This way, you can welcome them and allow them to settle in at their own pace.  
Guests often time bring a bottle of wine or flowers, so consider having a drink cart or table already set up with space for the gifted wine bottles.  
A few options in addition to wine: 
 (Let's be honest, the gentlemen probably want a beer).  
Winter Sangria 
Apple Cider (and cinnamon bourbon if that suits your crowd!) 
Cranberry & 7up Spritzer
A charcuterie board is a great preamble to the main feature, and allows guests to settle in with their drink before dinner is served. If your space permits, setting the charcuterie board and drink display  out in the living space helps to encourage mingling in places other than the kitchen or dining area.  
To continue that relaxed feel through the evening:
It's super tempting to get up from the table and start clearing dishes, but as a guest I think we can all agree that it cues that dinner is over.  After all, you've spent time and energy preparing for your guests. Why not enjoy your guests, relax and linger a little longer?  The dishes can wait!
After dinner is over, one idea is to take a break between dinner and dessert. An activity like a walk, football, or a board game gives people an opportunity to make room for dessert and can spread out the evening. 
03. For those of us who get caught up in the behind the scenes  
As a person who loves cooking and only wants to serve guests my best work,  I've learned that if I'm still cooking when my guests arrive, I'm still focused on cooking, and not on them. Cooking is a creative process and an adrenaline rush, so I can get a little caught up. Can you relate? 
 The key for me has been to prepare and cook ahead of time.  A natural question  is how much can I do in advance?  The truth is, so much!  Ask any caterer.  Some foods even improve taste after a day.  And by following a few principles, you can cook and prepare ahead of time without any worries of compromising the flavor or quality.  
Are you the guest (like myself) who wants to help with final cooking?  
If I'm organized, saving a few small tasks like making gravy or warming up rolls can be helpful to you and helps your guests feel included and not "in the way". 
For my full guide to what to cook the day before and what to save until the end, 
Read Part II about the cooking of Thanksgiving!
Special thanks to the vendor team for this amazing table design:
Photography: Leandra Brown
Florals: Westwood Flowers
Dessert: Eileen's Bakery
Calligraphy: Write Liz Write
Video: Ashleigh Buyers
 Planning & Design: Glorious Weddings & events
Shoot Assistant: McKinzie Turner