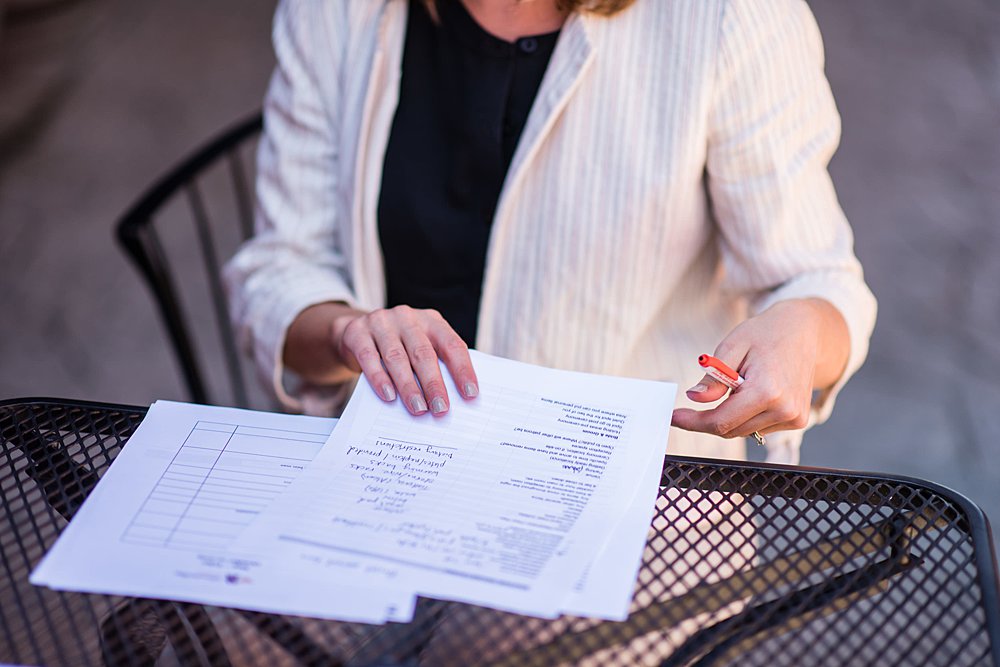 We're pretty organized and have created a wedding day timeline.  All we're needing is someone to come in just for the wedding day. Can you do that?  
Truthfully, we love couples who are organized and detail oriented. That being said, there are so many unique details and logistics that go into a wedding day.   Our timelines reflect the nuances and details specific to weddings. Each is so important to a seamless wedding day!    We've structured our wedding management offering accordingly so we can fully understand your event and deliver amazing service on your special day.  Just coming in on the wedding day we would not be able to know all of the information needed in order to serve you well.  
I'm looking for a pro to manage my wedding day and maybe a little more support… but I don't really know what this would look like. How do you handle this?
Often times couples inquire, specifically looking for day-of coordination, and through our conversation we uncover additional planning needs or things they are worried about going smoothly on their wedding day.  We love taking the time to get to know you and can structure an offering that's suited to the areas where you're looking for guidance, or simply, the things you haven't thought about.  
What does your partial planning look like?  
We try to keep it simple. We offer event planning and management.  Partial planning can get confusing, very fast!  We create custom proposals for each client, based on the planning you've already done (such as selecting your venue) and where you're still looking for guidance.  Some couples are looking for vendor selection in particular, while maybe you'd also like a planner to help you manage the planning process in general.  
If you are a full planning client, we walk through every step and every decision together — from catering tastings to stationery decisions.  If you are looking for support and guidance but more of a consulting role, we're here for that too.  We find that scheduling bi-monthly or monthly calls to plan and talk through decisions together works really well.  
Do you offer your preferred list to your clients, even management couples? 
Yes! We share this list with you as soon as you book a date.  This list is highly curated and is updated on a monthly basis.  We love when you work with the pros we love. Why? Because we want you to have an amazing vendor team that works together well, and more importantly, is invested in your wedding day being every bit as dreamy and special as you imagined. 
Do you require that we work with your preferred vendors? 
No, we don't require it, but we sure do love when you select the florist, entertainment, rental companies that we love! Here's why: while you might have done extensive research on a certain pro, and love their instagram aesthetic, a whole other dimension of working with vendors is their communication and collaboration style.  It's a huge value to
you
to have experienced vendors on your team. 
How important is it if our vendors have worked at our venue?  
I'll let you in on a little secret.  While it makes our side of the job a bit easier, it has minimal impact on your wedding day and how we're able to take care of you and your guests. We work at new venues all the time.   Moreover, speaking just for myself here, even prior to our walk-through together, I often times schedule a site visit so that I can familiarize myself and be fully ready for your day.  So while it's a nice to have, there's minimal impact on you and how your day unfolds.  
Do you include set-up?
The short answer is yes, to a point!  Often times we find that this is an initial need that prompts a couple to reach out.  From setting out your welcome sign to escort cards,  these personal items that most couples include in their design inventory.  Beyond that, we are supervising other vendors in their role during the set up window.  If you're thinking of centerpieces and similar design elements, we recommend hiring vendors who include set up and strike in their offering.  Our job as the planning team is to manage the whole event including the other vendors.  The florist's primary job, on the other hand, is designing your florals and her entire focus is on creating those.  In the past when our team has been setting out centerpieces and heavily in the weeds, it doesn't allow us to manage the vendor team and support them.  We find it works best when we handle the personal details and other vendors such as the rental company and florist are handling the other set up tasks.  
What does the wedding day look like from a service perspective? 
We structure our day based on how the rest of the timeline takes shape. We base our timing on all of the other important events of the day.  Typically hair and makeup is one of the few, if not the only vendor that arrives before we do.  In general, you can expect that we'll arrive toward the end of getting ready and we stay through your joyful send-off and vendor strike.  
What does your process look like & how do we book you?
That is one of our favorite questions! To read more about that, head to our process page which will walk you through the next steps!  But, to get you started, the first step is reaching out via our inquiry form and we'll be in touch right away.  
Do you have a team? 
In terms of day to day operations, I am the primary person behind the brand (and computer).  On your wedding day, we always operate with at least one additional team member so that we can deliver that personal approach we're known for.  Based on our initial conversations, we'll recommend how many planning assistants to serve you on your wedding day.  We've had as many as 5 team members on the wedding day.  These numbers depend on your set up window, the number of locations and more.  
How far out should we book our planner? 
Truthfully, as soon as possible. Whether you're looking for management or full planning, couples have booked us as early as 18 months out.  While you can certainly make a selection closer to the event, the peak dates fill up quickly!  The benefit to you of booking early?  We offer our vendor guide as soon as you reserve your date.  Another benefit is that you have access to us via email for questions as soon as you book. 
Have you had your work published? 
We have! We are thrilled every time our work makes it way into the world.  To see more, head to the banner at the bottom of the home page or click here.  Inspiration is a major ingredient in the process and we love sharing ideas.